Archive for the 'Laser Scanning' Category
Nottingham, UK – 3D Laser Mapping has announced the UK launch of the world's fastest and lightest mobile laser scanner. Designed to instantly 3D map buildings, infrastructure and highways to 5mm accuracy within half a kilometre, the Riegl VZ-400 represents a new generation of laser scanner technology. Weighing just 10kg and carried in a handy rugged briefcase, the added portability, accuracy and speed is set to revolutionise 3D field mapping.
Part of the Riegl V-Line range the VZ-400 utilises unique echo digitisation to achieve superior performance and accuracies of measurement, even under adverse weather conditions. The evaluation of multiple targets combined with a reliable, robust and lightweight construction makes the VZ-400 ideally suited to civil engineering, city modelling and architectural projects.

This is old news, but it is worth posting here for users thinking about purchasing point cloud software in the near future.
Ottawa, Canada, Tuesday, September 23, 2008 — Autodesk, Inc. has signed an agreement with Ambercore Software to license its point cloud technology and incorporate
it into future releases of Autodesk software. Point clouds are extremely large data files usually created through the use of laser scanning, high definition surveying, or LIDAR (Light Detection and Ranging). They provide a more accurate representation of existing conditions whether of a terrain surface or urban center, a roadway or bridge, or the interior/exterior of a building.
The Ambercore Software point cloud technology will enable customers to read, store, index, and quickly retrieve the extremely large data sets associated with laser scanning and LIDAR. As a result they will be able to visualize and analyze data in 3D and better build high-precision 3D models. Examples of customer benefits include: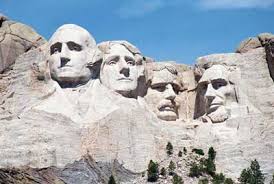 Source: http://www.rapidcityjournal.com/articles/2009/05/23/news/local/doc4a1702bb8841b911374516.txt
Officials at Mount Rushmore National Memorial have added new tools in the constant effort to preserve the national icon.
While crews traditionally use silicone sealant, fracture-mapping techniques and other technology to preserve the faces, they have added laser scanning and digital mapping to tools use to keep the 68 year old in good condition.
Duane Bubac, director of cultural resources and facilities at Mount Rushmore National Memorial, said the mapping project will give the National Park Service detailed information about the features of Mount Rushmore. And the data could later be used to create virtual, up-close tours of Mount Rushmore.
In the past, maintenance was mostly a once-a-year event. Each fall, rope-access crews descended from the top of the memorial to inspect the granite and caulk the surface cracks. The fall maintenance work still takes place every September, Bubac said, but it's now part of a much larger, year-around effort to monitor and preserve Mount Rushmore National Memorial.
By Adam Sheppard
Source: http://blogs.nasa.gov/cm/blog/chrisckemp/posts/post_1242080940877.html
In October 2006 I was sitting in my office at Microsoft trawling through a backlog of email and voice messages. It had been a busy couple of months leading up to the Technology Preview of Photosynth at San Francisco's Web 2.0. We'd brought the house down with our on stage demonstration of Photosynth's ability to take a large number of digital images and automatically assemble them into a high resolution, 3D environment that anyone could explore at home from within their web browser.
5 Tips from the CyArk Team
It is often difficult to capture the beauty of a site with drawings and photographs alone. This is why animations are often helpful for viewers to get a sense of the space and relation of objects to one another. Yet, animations can be a tricky thing to master—particularly in Leica's Cyclone software. This list is intended to help you add greater eloquence and expression to your Cyclone animations while speeding up the preparation time.
1) Simulate the Animation
Use the view mode to fly through the modelspace to get an idea of what areas would be the best to animate. Manipulate the modelspace as though you were watching an animation. This will help you notice if there are areas that you may not want to show, or areas that need emphasizing.
By Gautham Nagesh 05/22/2009
Source: http://www.nextgov.com/nextgov/ng_20090522_7519.php
Agencies have launched social networking applications at such a fast pace that government officials said on Friday that they plan to add more applications, such as Apple's popular media store iTunes and the career-networking site LinkedIn.
The government also is negotiating agreements with social publishing site Scribd and commenting platform Intense Debate, said Martha Dorris, acting associate administrator for the General Services Administration's Office of Citizen Services and Communications. The federal government has signed modified terms of service agreements to allow agencies to use social media sites Flickr, Facebook, YouTube, Vimeo, Slideshare and AddThis, among others.
The response to the agreements has been excellent, Dorris said. Agencies have set up Facebook profiles, Twitter accounts and YouTube channels to share information with the public. "We're looking at taking information wherever citizens go to get information," she said, adding GSA will consider adding more social networking sites, depending on requests from agencies.