Archive for the 'Software' Category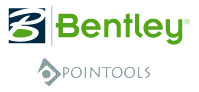 Presented by: Executives from Spar Point research, Pointools, and Bentley
Summary:On October 14, 2009, Bentley announced that it had signed a "Continuous Technology Transfer Agreement" to incorporate Pointools' Vortex Engine in the Bentley Technology Platform to enable reuse of 3D laser scanned data. This webinar will include three different perspectives on this agreement. To see the future of 3D data integration and platform interoperability you have to attend this webinar.
What you can learn:
An overview by Spar Point Research of the impact that laser scanning technology is having on the design, construction, and management of industrial plant, BIM, and civil/transportation infrastructure assets
The importance of integrating this technology into the daily workflows of infrastructure professionals and the value users will realize from this integration
A brief demonstration by Pointools of the Vortex engine functionality including an explanation on why the Pointools' technology is so fast and so capable of handling billions of point clouds at one time

PITTSBURGH, PA — (Marketwire) — 10/29/09 — Quantapoint (http://www.quantapoint.com) — recent recipient of a General Services Administration (GSA) laser scanning IDIQ contract — announced the integration of Quantapoint 3D laser scan data with Autodesk® Revit using QuantaCAD(TM). Laser data may be accessed directly within Revit as photo-realistic Laser Images(TM) of individual 3D laser scans and high-definition Laser Models(TM) of integrated laser data, not fuzzy "point clouds" whose sparse measurements make them difficult to use and understand.
"One of the challenges of Building Information Modeling (BIM) has been creating 3D BIM models that accurately represent existing buildings," said Eric Hoffman, Founder of Quantapoint. "By integrating Laser Models and Laser Images with Revit, Quantapoint can more quickly create 3D BIM models and validate their accuracy. Additionally, new 3D BIM designs can be viewed and clashed with the laser data to ensure that they will fit into the existing facility, thus eliminating rework."
Ottawa, Canada, Wednesday, October 28, 2009 – Ambercore is pleased to announce its point cloud technology has been incorporated into the release of AutoCAD® Civil 3D® 2010 and AutoCAD® Map 3D 2010, part of Autodesk's Subscription Advantage Packs. These releases are the first products from Autodesk that incorporate Ambercore's technology which provides valuable new functionality for importing and visualizing large point cloud data sets.
Point clouds are extremely large data sets with millions of points, and are typically created through the use of laser scanning, high-definition surveying, or LiDAR (Light Detection and Ranging). They provide accurate representations of existing conditions of terrain surfaces, roadways, bridges, and the interior or exterior of features of buildings.
Some common uses of LiDAR data in AutoCAD® Civil 3D® and AutoCAD® Map 3D include using the point cloud data to create DEMs and contour data, digitizing as-built features for design projects, visualizing power lines and surrounding vegetation for right-of-way management, and developing an understanding of the site context in site surveys.
Leica Geosystems announces three new laser scanning software products for scan data import, forensic scene mapping, and modeling complex 3D surfaces. Combined, these products increase the breadth and depth of laser scanning software solutions available from Leica Geosystems.
A new, standalone Cyclone IMPORTER module is part of the separately announced, enhanced Cyclone 7.0 software suite. This new "open systems" module enables the direct use by Cyclone of scan data. Direct import of native data formats avoids conversion steps to neutral formats that can be time consuming and that are generally not as efficient for downstream data processing. Overall, it lets users of scan data from 3rd party scanners take better advantage of the broad capabilities in the Cyclone suite of software.
On Sepember 1, 2009, Leica Geosystems and Point of Beginning Magazine hosted a webinar titled The Business of Laser Scanning — hype or competitive advantage? Presenters Michael Harvey and Frank Hahnel along with Kristi Grahl discussed using laser scanning technology to:
Submit more competitive bids — and win more jobs — for both high-end projects and routine surveys.
Meet the requirements of customers who increasingly incorporate HDS into their project specifications.
Lower your labor costs and increase profit margins on every job.
Increase customer satisfaction with more accurate and detailed surveying reports.
During the webinar, the presenters also announced the availability of Leica's new ScanStation C10 self-contained time-of-flight 3D laser scanner along with Cyclone 7, Cloudworx for SmartPlant3D and Forensic Map.
Some of the benefits of the new ScanStation C10:
No cables
On-board data storage
USB Interface for data transfer

Company: ClearEdge3D
Software: EdgeWise™
Website: www.clearedge3d.com
Quick Pitch: Automatically extract vector planar surfaces from point cloud data.
Overview:
Having used just about every piece of software on the market related to processing and extracting vector information from point cloud data, I am always looking for the next best thing that will make my life and my team's life easier. We have seen the hardware side of laser scanning come a long way in a very short period of time; however, the software side has not improved at the same blistering pace.
Leica Geosystems Announces the Release of Leica CloudWorx™ 1.0 for SmartPlant 3D
(Heerbrugg, 21 July 2009) Leica Geosystems announces the immediate availability of Leica CloudWorx™ 1.0 for SmartPlant 3D. This powerful and easy-to-learn point cloud solution is designed for Intergraph SmartPlant 3D users who want to take full advantage of accurate, laser scan as-built data directly in SmartPlant 3D.
Leica CloudWorx™ 1.0 for SmartPlant 3D is the latest addition to the Leica CloudWorx suite of products that enable professionals to use rich, as-built point cloud data directly in their native desktop design and visualization platform. SmartPlant 3D is Intergraph's next generation plant design platform.
Newest Release of 3D Visualization, Simulation, and Review
Software
includes 3D Interoperability, Clash Detection, and Collaboration
Capabilities
SAN RAFAEL, Calif., June 23 /PRNewswire-FirstCall/ — WHAT:
Autodesk Navisworks 2010: – Autodesk, Inc. , a world leader in 2D and 3D design and engineering software, announced that it is shipping new releases of Autodesk Navisworks 2010 software for managing, simulating, and reviewing design and engineering projects in 3D. Autodesk Navisworks 2010 provides new capabilities that manage multi-disciplinary plant design and engineering workflows and enhance coordination across distributed teams. New plant-relevant features include:
Clash grouping and detection – Autodesk Navisworks combines precise faultfinding with hard, soft, clearance, and time-based clash management. Engineers can more quickly review and cross-check geometry created by most 3D authoring software; maintain a complete record of all clashes found throughout a project; check time and space coordination; and resolve site and workflow issues at the planning stage.
Written by: Pointools
Look for a full review of Pointools Edit soon here at HighDefinitionSurveys.com.
The challenges of managing and working with large point cloud datasets efficiently and maximising their value has been the primary concern of point cloud software specialists Pointools who have recently announced the availability of the eagerly-awaited flagship product Pointools Edit.
Key Features
Pointools Edit builds on the features of the successful Pointools View Pro, adding a new set of tools and enhancements in key areas without compromising performance. Like View Pro, Edit is also based on the Vortex point cloud engine designed to deliver productivity with huge datasets. Pointools say their focus with Edit has been to provide a post-registration toolkit that prepares point cloud data for production of deliverables reducing the overall project production time. Edit has been tested rigorously in production environments to ensure it delivers, even for most demanding projects.