Pittsburgh, PA (PRWEB) October 30, 2009 — Coign Asset Metrics & Technologies (CoignAMT.com) announced today that it was selected for a five-year, $30 million, Indefinite Delivery Indefinite Quantity (IDIQ) contract awarded by the U.S. General Services Administration (GSA) Public Buildings Service (PBS). For this nationwide contract CoignAMT, as prime, and its partners will provide professional laser scanning and Building Information Modeling (BIM) services to each of the eleven GSA regions.
"We are very excited to be part of this monumental opportunity,"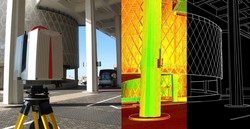 "We are very excited to be part of this monumental opportunity," said Travis Reinke, Asset Inventories Sector Manager for CoignAMT. "Our team is comprised of some of the most talented individuals in the laser scanning and building information modeling industries and we look forward to sharing our experiences utilizing the latest technologies and software to assist the GSA PBS in effectively managing their facilities for years to come. Having been involved in the laser scanning industry since the very beginning, it is exciting to not only see the rapid progression of the technology itself, but also the acceptance of its benefits in the architectural and federal community."

PITTSBURGH, PA — (Marketwire) — 10/29/09 — Quantapoint (http://www.quantapoint.com) — recent recipient of a General Services Administration (GSA) laser scanning IDIQ contract — announced the integration of Quantapoint 3D laser scan data with Autodesk® Revit using QuantaCAD(TM). Laser data may be accessed directly within Revit as photo-realistic Laser Images(TM) of individual 3D laser scans and high-definition Laser Models(TM) of integrated laser data, not fuzzy "point clouds" whose sparse measurements make them difficult to use and understand.
"One of the challenges of Building Information Modeling (BIM) has been creating 3D BIM models that accurately represent existing buildings," said Eric Hoffman, Founder of Quantapoint. "By integrating Laser Models and Laser Images with Revit, Quantapoint can more quickly create 3D BIM models and validate their accuracy. Additionally, new 3D BIM designs can be viewed and clashed with the laser data to ensure that they will fit into the existing facility, thus eliminating rework."
Ottawa, Canada, Wednesday, October 28, 2009 – Ambercore is pleased to announce its point cloud technology has been incorporated into the release of AutoCAD® Civil 3D® 2010 and AutoCAD® Map 3D 2010, part of Autodesk's Subscription Advantage Packs. These releases are the first products from Autodesk that incorporate Ambercore's technology which provides valuable new functionality for importing and visualizing large point cloud data sets.
Point clouds are extremely large data sets with millions of points, and are typically created through the use of laser scanning, high-definition surveying, or LiDAR (Light Detection and Ranging). They provide accurate representations of existing conditions of terrain surfaces, roadways, bridges, and the interior or exterior of features of buildings.
Some common uses of LiDAR data in AutoCAD® Civil 3D® and AutoCAD® Map 3D include using the point cloud data to create DEMs and contour data, digitizing as-built features for design projects, visualizing power lines and surrounding vegetation for right-of-way management, and developing an understanding of the site context in site surveys.
3D Laser Scanner Combines Phase and Time of Flight Technologies for Fast and Accurate Data Capture
SUNNYVALE, Calif., Oct. 29, 2009 — Trimble (NASDAQ: TRMB) introduced today the Trimble® CX 3D laser scanner with Trimble's proprietary WAVEPULSE™ technology. WAVEPULSE combines the high short-range accuracy of phase-shift technology with the low-noise sensitivity and high-distance characteristics of time-of-flight technology. The result is high-precision measurements over the full operating range that provides the clean 3D data needed for industrial plant scanning applications—allowing the user to realize increased productivity and reduced operating costs. And by requiring fewer setups and enabling faster processing time in an industrial plant environment, the Trimble CX solution can contribute to improved worker safety.
Built for Efficiency in the Plant
Leica Geosystems announces three new laser scanning software products for scan data import, forensic scene mapping, and modeling complex 3D surfaces. Combined, these products increase the breadth and depth of laser scanning software solutions available from Leica Geosystems.
A new, standalone Cyclone IMPORTER module is part of the separately announced, enhanced Cyclone 7.0 software suite. This new "open systems" module enables the direct use by Cyclone of scan data. Direct import of native data formats avoids conversion steps to neutral formats that can be time consuming and that are generally not as efficient for downstream data processing. Overall, it lets users of scan data from 3rd party scanners take better advantage of the broad capabilities in the Cyclone suite of software.

The General Services Administration (GSA), Public Buildings Services (PBS), has officially awarded six individual $30 million Nationwide Laser Scanning IDIQ Contracts to the following firms (source: https://www.fbo.gov/spg/GSA/PBS/PHA/GS-00P-09-CYD-0137/listing.html):
Some firms were awarded contracts in their specific region(s) and others were awarded a contract covering all of the GSA regions.
Congratulations to all! These firms include some of the most talented individuals in 3D laser scanning. It will be interesting to see how much work actually comes out of this contract and how it will impact the laser scanning industry. Be sure to follow us on Twitter to get the latest updates on this monumental contract award.
PITTSBURGH, PA — 10/07/09 — Quantapoint (http://www.quantapoint.com) — provider of laser scanning technology and services that provides precise facility as-built information for engineering analysis and asset management — announced that it was awarded a General Services Administration (GSA) Laser Scanning Indefinite Delivery, Indefinite Quantity (IDIQ) contract. The IDIQ contract is for Quantapoint and its partners to provide laser scanning and related services for all GSA regions of the United States in support of Building Information Modeling (BIM), building modifications and performance upgrades such as Leadership in Energy and Environmental Design (LEED) certification. The contract has a maximum value of $30 million over five years.
Quantapoint's unique combination of significant experience, broad expertise and coverage of all GSA regions were major factors in the award. Quantapoint is one of the world's most experienced laser scanning companies, having executed more than 1,400 laser scanning projects over 18 years in facilities ranging from historic structures and multi-story office buildings to refineries, nuclear power plants and offshore platforms. Quantapoint also has a broad range of laser scanning expertise, having created multiple generations of laser scanner hardware and viewing and analysis softwarethat have been used for projects around the world.
Written by Architectural Resource Consultants
Irvine, California (September 27, 2009) – The U.S. General Services Administration (GSA) Public Building Service (PBS) has awarded Architectural Resource Consultants a five year Indefinite Delivery, Indefinite Quantity (IDIQ) contract worth up to $30 million for Nationwide Laser Scanning Services.
"This is a great example of how Architectural Resource Consultants' expertise in providing 3D laser as-built surveys and Building Information Modeling (BIM) provides the best solutions for our customers," said John Russo, AIA, President and CEO of ARC.  "In this case our expertise in managing High Definition Survey (HDS) services made us the right choice for GSA to advance its initiative for using 3D laser scanning to help manage its building assets."
The contract calls for ARC and its team of sub-consultants to provide HDS laser scanning services to document existing conditions of GSA's building assets and create 3-dimensional building models which will assist GSA in managing its buildings throughout all four phases of the facility life cycle.
The rapid speed at which technology is advancing seems to amaze me every single day and today is no exception. Below is a video demonstrating ongoing research being done out of the Georgia Institute of Technology funded in part by a Google Research Award. Be sure to watch the video at the bottom of this post. Below is some information from the research site.
Kihwan Kim, Sangmin Oh, Jeonggyu Lee and Irfan Essa,
College of Computing, School of Interactive Computing
GVU Center, Georgia Institute of Technology
* Paper to appear in ISMAR (IEEE/ACM International Symposium on Mixed and Augmented Reality) 2009, Orlando Florida USA
** This work was in part funded by a Google Research Award (http://research.google.com/university/relations/research_awards.html).
Abstract
Austin, Texas-based SAM, Inc. announced that it has added an Optech LYNX Mobile Mapping solution to its inventory. The company will feature this new technology in the Optech booth at the AREMA 2009 Conference to be held September 20-23 in Chicago. The Optech system was evaluated along with offerings from several other manufacturers. The decision on Optech was due to the engineering of the system and the amount of data it is able to collect, says SAM Senior Project Manager Gordon K. Perry, RPLS, PLS. To date, the system has been used on a multitude of internal projects around Austin and will be utilized on rail projects–a key industry for SAM–in the future. Perry says the company has teamed with nationally acknowledged consulting teams on rail projects and is short-listed for a major project in the Northeast. Perry says SAM's mobile services will be offered nationwide.