Posts Tagged 'data anthem'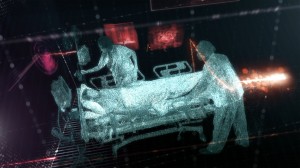 HOUSTON, TX March 18, 2010 Coign Asset Metrics & Technologies (CoignAMT), at the direction of Zoo Film Productions of Hollywood, CA, has helped produce IBM's first globally released television commercial created entirely from Light Detection and Ranging (LiDAR) 3D point cloud data.
CoignAMT used the HDS6100 phase-based laser scanner from Leica Geosystems to create scenes of cars on a freeway, patients in a hospital, electricity grids and much more. The 30-second LiDAR-based commercial is a key part of IBM's Smarter Planet initiative to portray that data is all around; and that by changing the way the world thinks, companies can maximize the use of data to lower their costs and reduce environmental impact.

Travis Reinke, business sector manager for CoignAMT, says, "Coincidentally, IBM's perspective is a core part of CoignAMT's business practice. We help our clients see the long-term value of the data they currently have by using the latest technology, such as 3D laser scanning, to quickly gather an immense amount of data to support their existing "intelligent" systems."