Posts Tagged 'nationwide laser scanning'
Pittsburgh, PA (PRWEB) October 30, 2009 — Coign Asset Metrics & Technologies (CoignAMT.com) announced today that it was selected for a five-year, $30 million, Indefinite Delivery Indefinite Quantity (IDIQ) contract awarded by the U.S. General Services Administration (GSA) Public Buildings Service (PBS). For this nationwide contract CoignAMT, as prime, and its partners will provide professional laser scanning and Building Information Modeling (BIM) services to each of the eleven GSA regions.
"We are very excited to be part of this monumental opportunity,"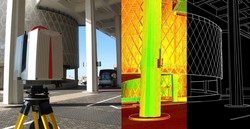 "We are very excited to be part of this monumental opportunity," said Travis Reinke, Asset Inventories Sector Manager for CoignAMT. "Our team is comprised of some of the most talented individuals in the laser scanning and building information modeling industries and we look forward to sharing our experiences utilizing the latest technologies and software to assist the GSA PBS in effectively managing their facilities for years to come. Having been involved in the laser scanning industry since the very beginning, it is exciting to not only see the rapid progression of the technology itself, but also the acceptance of its benefits in the architectural and federal community."
See UPDATE: GSA Nationwide BIM/Laser Scanning Services Contract Awards
Beginning this week, the General Services Administration (GSA) began interviewing the 21 firms (not verified) shortlisted for the Nationwide Laser Scanning Services solicitation. Although this solicitation was advertised as a "nationwide" services contract, information announced in the interviews clarified that firms would be selected for up to three regions. This opens the door to the possibility of a greater number of awards and smaller contracts.
The GSA is looking at an aggressive schedule for the awards which will be announced the first or second week of September with hopes of having contracts in place before the end of their fiscal year – September 31st.
Good luck to all of the Shortlisted firms. Stay tuned for more info as it becomes available.