Posts Tagged 'point cloud'
Note: Hexagon Metrology is owned by Hexagon AB Group which also ownes Leica Geosystems. It will be interesting to see if any of this functionality will end up in Cyclone.
North Kingstown, RI – June 2, 2009 – Wilcox Associates, a Hexagon Metrology company, announces the immediate availability of PC-DMIS Reshaper software as a standlone application. PC-DMIS Reshaper is a comprehensive 3D point-cloud processing program that can be used to collect or import large quantities of 3-dimensional point data for manipulation and processing for downstream processes such as CAD modeling, Computer Aided Manufacturing (CAM) or rapid prototyping.
PC-DMIS Reshaper operates as a fully functional application in an online or offline mode. Data collection can be accomplished "live" via a direct connection to a digitizing device, such as a ROMER portable measuring arm with a laser scanner, or offline via file import from more than a dozen 3D data file formats, including STEP, IGES, ASCII, DXF, DMIS, ISO and RAW.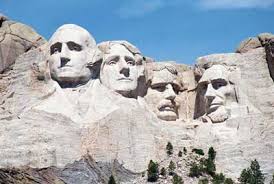 Source: http://www.rapidcityjournal.com/articles/2009/05/23/news/local/doc4a1702bb8841b911374516.txt
Officials at Mount Rushmore National Memorial have added new tools in the constant effort to preserve the national icon.
While crews traditionally use silicone sealant, fracture-mapping techniques and other technology to preserve the faces, they have added laser scanning and digital mapping to tools use to keep the 68 year old in good condition.
Duane Bubac, director of cultural resources and facilities at Mount Rushmore National Memorial, said the mapping project will give the National Park Service detailed information about the features of Mount Rushmore. And the data could later be used to create virtual, up-close tours of Mount Rushmore.
In the past, maintenance was mostly a once-a-year event. Each fall, rope-access crews descended from the top of the memorial to inspect the granite and caulk the surface cracks. The fall maintenance work still takes place every September, Bubac said, but it's now part of a much larger, year-around effort to monitor and preserve Mount Rushmore National Memorial.
By Adam Sheppard
Source: http://blogs.nasa.gov/cm/blog/chrisckemp/posts/post_1242080940877.html
In October 2006 I was sitting in my office at Microsoft trawling through a backlog of email and voice messages. It had been a busy couple of months leading up to the Technology Preview of Photosynth at San Francisco's Web 2.0. We'd brought the house down with our on stage demonstration of Photosynth's ability to take a large number of digital images and automatically assemble them into a high resolution, 3D environment that anyone could explore at home from within their web browser.