Posts Tagged 'public buildings services'
Pittsburgh, PA (PRWEB) October 30, 2009 — Coign Asset Metrics & Technologies (CoignAMT.com) announced today that it was selected for a five-year, $30 million, Indefinite Delivery Indefinite Quantity (IDIQ) contract awarded by the U.S. General Services Administration (GSA) Public Buildings Service (PBS). For this nationwide contract CoignAMT, as prime, and its partners will provide professional laser scanning and Building Information Modeling (BIM) services to each of the eleven GSA regions.
"We are very excited to be part of this monumental opportunity,"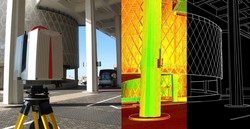 "We are very excited to be part of this monumental opportunity," said Travis Reinke, Asset Inventories Sector Manager for CoignAMT. "Our team is comprised of some of the most talented individuals in the laser scanning and building information modeling industries and we look forward to sharing our experiences utilizing the latest technologies and software to assist the GSA PBS in effectively managing their facilities for years to come. Having been involved in the laser scanning industry since the very beginning, it is exciting to not only see the rapid progression of the technology itself, but also the acceptance of its benefits in the architectural and federal community."
PITTSBURGH, PA — 10/07/09 — Quantapoint (http://www.quantapoint.com) — provider of laser scanning technology and services that provides precise facility as-built information for engineering analysis and asset management — announced that it was awarded a General Services Administration (GSA) Laser Scanning Indefinite Delivery, Indefinite Quantity (IDIQ) contract. The IDIQ contract is for Quantapoint and its partners to provide laser scanning and related services for all GSA regions of the United States in support of Building Information Modeling (BIM), building modifications and performance upgrades such as Leadership in Energy and Environmental Design (LEED) certification. The contract has a maximum value of $30 million over five years.
Quantapoint's unique combination of significant experience, broad expertise and coverage of all GSA regions were major factors in the award. Quantapoint is one of the world's most experienced laser scanning companies, having executed more than 1,400 laser scanning projects over 18 years in facilities ranging from historic structures and multi-story office buildings to refineries, nuclear power plants and offshore platforms. Quantapoint also has a broad range of laser scanning expertise, having created multiple generations of laser scanner hardware and viewing and analysis softwarethat have been used for projects around the world.