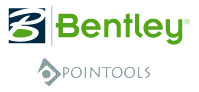 Presented by: Executives from Spar Point research, Pointools, and Bentley
Summary:On October 14, 2009, Bentley announced that it had signed a "Continuous Technology Transfer Agreement" to incorporate Pointools' Vortex Engine in the Bentley Technology Platform to enable reuse of 3D laser scanned data. This webinar will include three different perspectives on this agreement. To see the future of 3D data integration and platform interoperability you have to attend this webinar.
What you can learn:
An overview by Spar Point Research of the impact that laser scanning technology is having on the design, construction, and management of industrial plant, BIM, and civil/transportation infrastructure assets
The importance of integrating this technology into the daily workflows of infrastructure professionals and the value users will realize from this integration
A brief demonstration by Pointools of the Vortex engine functionality including an explanation on why the Pointools' technology is so fast and so capable of handling billions of point clouds at one time
Written by Vector1Media
Monday, 15 June 2009
Spar Point Research announced today preliminary plans for SPAR 2010, its seventh annual conference on advanced dimensional control work processes and 3D laser scanning technologies for design, construction and manufacturing.
SPAR 2010 will be held Feb. 8-10, 2010 at The Woodlands Waterway Marriott Hotel & Convention Center in The Woodlands (Houston), Texas. Further details will be announced soon.
The conference features presentations, workshops and technical seminars on the business and technology of capturing, managing and integrating 3D information. Spar presenters are some of the most experienced professionals from the world's largest petroleum and petrochemical producers, manufacturing companies, civil and transportation infrastructure engineering firms, industrial metrologists, geotechnical and mining firms, land surveyors, and federal, state and local governments.
Spar Point welcomes presentation abstracts from process and power, civil infrastructure and transportation, and discrete manufacturing facility owners and contractors on their use of laser scanning and other dimensional control technologies to capture and document existing-conditions data for design, construction and operations. Presentations will ideally include metrics identifying the impact of 3D imaging technology on outcomes, such as maintaining or reducing critical path time, achieving cost savings, enabling safety and productivity gains, or other measures. Presentations that address the issues of best practices for contracting, professional development and liability management are also invited.